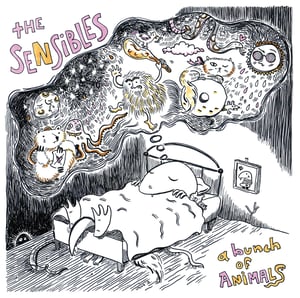 €

12.00
Debut album by The Sensibles (punk pop/power pop from Milan, Italy)

Tracklist
A1. Happy 01:45
A2. My mattress 02:41
A3. Confetti blizzard 02:17
A4. I'm a brat 01:54
A5. Stay with me 01:31
A6. Pictures in my head 02:57

B1. Milky way 02:10
B2. I want your blood 02:13
B3. Silly song 01:50
B4. Dear Otzi 02:21
B5. Animals 02:27
B6. Kitten blues 02:27
All songs by The Sensibles
Recorded and mixed by Bruno Barcella at T.U.P. Studio.
Recensioni/Reviews:
A Bunch of Animals is a joyful and upbeat affair full of infectious melodies and endearingly bubbly vocals from lead singer Stella. And while a lot of bands of this style can string together three or four quality tracks, The Sensibles have proven talented enough to fill an entire album with insanely catchy pop songs.
(Faster And Louder)
(IT) Troublezine
(IT) SNAFU
(IT /EN) I Buy Records!
(EN) Ice Cream Man Power Pop & More
(ES) Spop